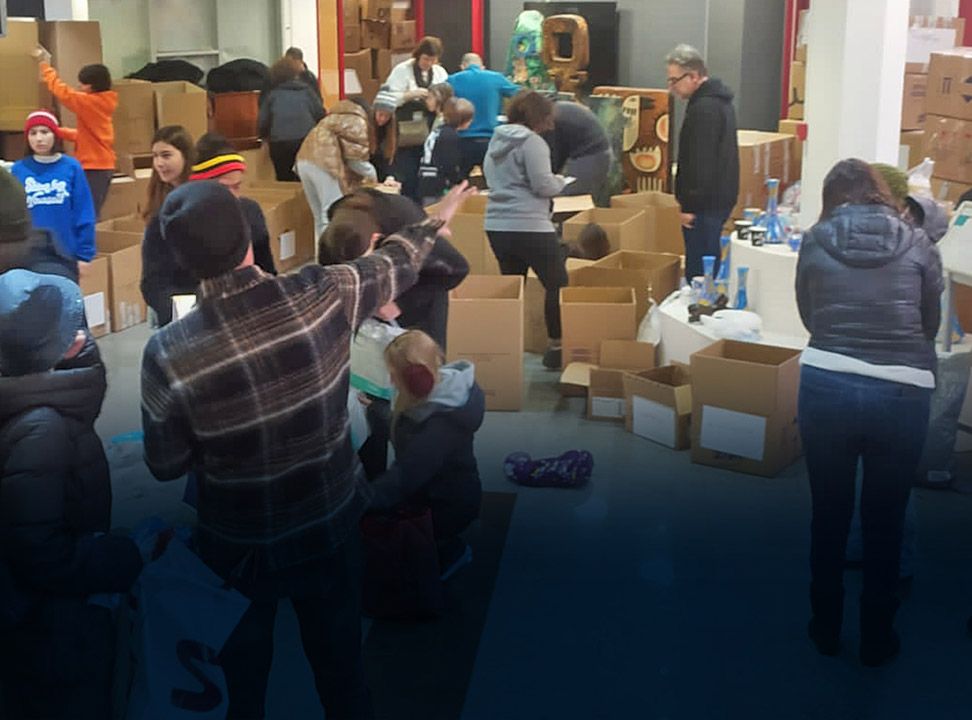 All Irmak Family united to help the earthquake victims
We are deeply saddened by the earthquakes with a magnitude of 7.7 at 4:17 on Sunday, February 6, and then 7.5 at 13.24, the epicenter of which is Kahramanmaraş and affecting more than 10 provinces.
We are working with all our might to heal the wounds with our support group consisting of Irmak Schools, Parents' Association and alumni (Irmaklılar Association).
Thanks to the fast and sensitive reaction of our esteemed parents to our messages, we received a total of 500 sets of winter clothes, 20 generators and 100 sets of medical supplies for the children in the disaster area in a very short time.
* 2000 pieces of bread were bought from Kayseri by a volunteer employee of one of our parents in the region to be sent to Hatay. It was delivered to our graduate Can Ermert and distributed to Kırıkhan district (1000 of which were met by our parents, 1000 from OAB account).
* 50 sets of Support 2 dolls were purchased from E-Bebek.
* 241 baby, child adult underwear, fleece, beret etc. from DeFacto.
In addition to the more than 400 boxes we sent (the first batch) via IBB, 2 trucks, which we organized to be met by our graduate Can, who is in the search and rescue team in Kırıkhan, Hatay, set off with more than 650 aid boxes, and we passed 1000 boxes in total.
In addition to the more than 400 boxes we sent (the first batch) via IBB, 2 trucks, which we organized to be met by our graduate Can, who is in the search and rescue team in Kırıkhan, Hatay, set off with more than 650 aid boxes, and we passed 1000 boxes in total.
In addition to all the materials brought and left by our parents, the following new materials were purchased and loaded on trucks, in addition to the ones we announced before, with donations made to us:
• 100 Power banks
• 284 Pediatric drugs, painkillers, antipyretics, etc. simple drugs
• 85 assorted serums
• 23 professional neck collars
• 120 catheters
Our first truck arrived at our volunteer graduate Can, who was there to be used at the State Hospital in Kırıkhan, Hatay, and the Central Hospital in the 101st Border Brigade, at around 01:30 at night. In our conversations with Sabah Can, he said that there was a space problem due to the help received during the night and that we could divert the aid other than the medical supplies in the second truck. We also changed the direction of the second truck in coordination with him and delivered it to Islahiye, based on the knowledge of a parent who had reached the OAB before, that there was an urgent need for supplies in the Islahiye district of Gaziantep. After downloading the requirements here, the medical supplies were sent back to Can in Kırıkhan, Hatay.
Another good news is that we distributed the bread, which we wrote as 2,000 before, but then increased to 3,000, in the Samandağ village of Hatay, thanks to our volunteer friend who went there.
In addition, we were informed that 9 children, whose houses were destroyed in the earthquake and were brought to Kocaeli with their families after being pulled out of the rubble, needed urgent clothing. All of the clothing needs were purchased new by a parent we reached out to regarding the issue, and they are on their way to be delivered this evening.
According to the latest information we have received, we have been informed that Petek Yemek, who prepares the meals of our school, has set up a kitchen arrangement to deliver 15,000 breakfasts and 15,000 dinners a day for 30 days, by delivering 2 trucks of food supplies and 1 truck of water to Adıyaman centre, as of Monday. We would like to thank Petek Yemek, a part of the Irmak family.
We don't stop! We mobilized to help the Adıyaman center, where our Physical Education Department Head Tuna Tanrıverdi was there for help and which was badly damaged. He unfortunately lost some of his close relatives there, but he supports search and rescue efforts and sent us a list of urgent needs.
A total of 127 boxes, consisting of tents, sleeping bags, blankets, supplies, baby supplies and many more, that our parents left at our school throughout the day, were prepared by our students. In addition, with the donations received on behalf of the OAB, we bought the following materials that are much needed in the region:
• 5 pieces of London Family tents for 8-10 persons with Airtex fabric resistant to -40 degrees. (In the official link)
• Set consisting of hand pump, ground mat, canopy poles, fireproof stove base and in-tent organizer to be used inside and in the tent.
• 5 in-tent stoves.
• 10 boxes of a set of 30 thermal underwear per box for children, women and men.
The most important and very emotional news, in which we once again understood the value of delivering aid to the targeted points, came from Kahramanmaraş Elbistan. They shared with us the information that 4 earthquake victims were pulled out of the rubble by using these generators in Elbistan, where 2 of the 20 generators we bought upon the urgent need of a parent were delivered, and they sent their gratitude to the Irmak family. We are sure that you will have emotional moments while watching this news that makes us all happy and the rescue videos in the link. We would like to express our gratitude to all our heroes, miners, soldiers, policemen, health workers, disaster recovery volunteers, who worked there with their lives and efforts with great devotion and effort, it is good that they exist.
Another good news of the day was the news that reached all of us from our school, that until June, education, food, service, stationery and clothing expenses of the earthquake-affected students will be covered within the quota of 16 students from different grade levels. The Irmak family will give their best support with all its stakeholders to ensure that these 16 children continue their education and training processes and overcome the trauma they have experienced.
We gave priority to shelter, clothing, food, hygiene and personal care products and directed our resources to product sourcing in these categories. First of all, we purchased 35 sleeping bags that we could find in stock from the Decathlon stores we visited. Our graduates also purchased 10 tents. We will try to supply different models of sleeping bags, as well as other shelter materials, which we can find tomorrow from Decathlons, where stocks are renewed every day. We are happy to support all members of the Irmak family, who have the opportunity, in this regard.
Apart from these, 95 more parcels were prepared with the materials received by the members of the Irmak family, with the devoted efforts of our graduates and students. In this way, a total of 295 aid boxes in the categories of food, hygiene, shelter, health and clothing became ready to be loaded on the truck. This does not include tents, stoves, generators, powerbank boxes and water that have not yet been shipped.
Endless thanks to all our parents who provided financial support with their donations, moral support with their messages of support, and physical support for sorting, packing and loading by coming personally.
We wish a speedy recovery to our citizens who were injured in the earthquake, prayers to those who lost their lives, and thank all our parents for their support.