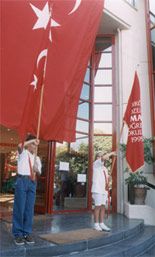 Primary School was comissioned in 1993 by NEKAŞ, (Quality Education Corporation) which was founded by Yapı Merkezi and Gençlik Kültür Vakfı in 1993.
Irmak Primary School, being the first educational institution of NEKAŞ (Quality Education Corporation), was decided to built on the Caddebostan campus which belonged to the foundation. The founders had also decided to increase the school's capacity in steps in order to give a continual education between the ages of 4 and 18. Irmak Primary School and Preschool consisted of a Preschool and 1st, 2nd and 3rd Grades in 1995. Irmak Primary School gave its first graduates in 2001.
Irmak High School (preparatory + 3 years) opened in 2001 and sent its first graduates to university with great success. There are two different types of education today at Irmak High School; is 5 years (preparatory+ 4 years). As part of Irmak School's founding mission, knowing that every student has been given different talents and abilities, it was decided that these abilities and talents should be brought to the surface. This is the basic principle of Irmak's "making a difference" philosophy.