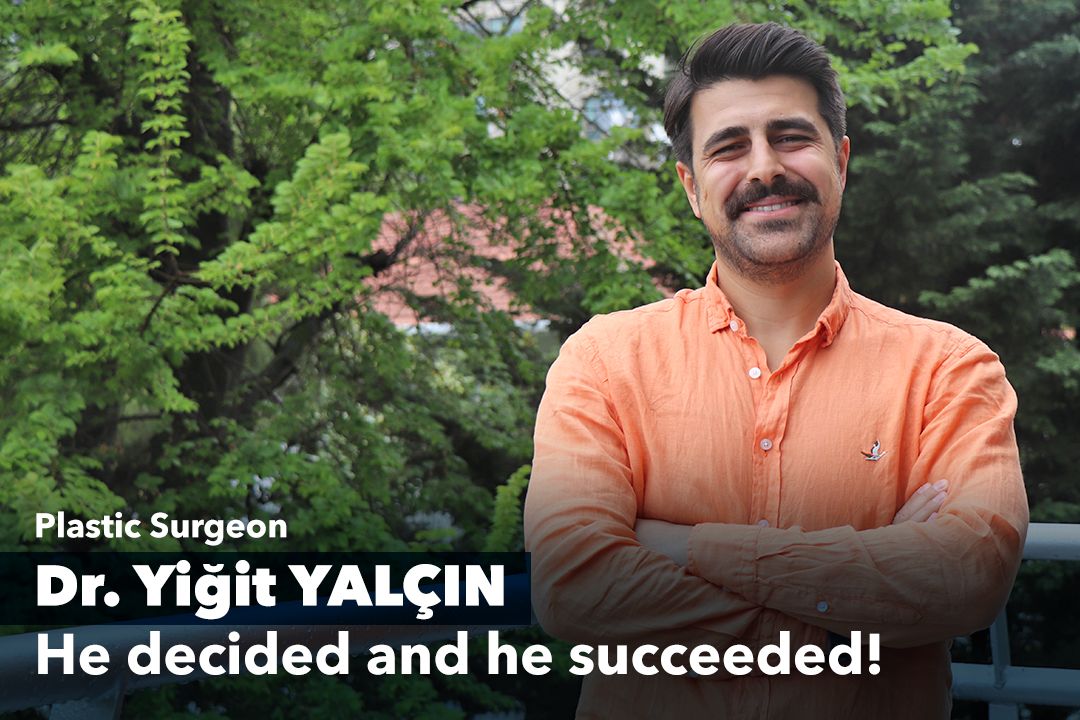 Dr. Yiğit Yalçın "Plastic Surgeon, He decided and he succeeded."
Hello, I am Yiğit Yalçın, I was at Irmak Schools between 2008-2012.
I enrolled in the Istanbul University Faculty of Medicine in 2013 and completed my medical education in 2019 and graduated. Achieving the 15th rank in 2020 Medical Specialization Exam of Turkey,  I started my specialization by studying the Plastic Reconstructive and Aesthetic Surgery Department of Istanbul Medical Faculty. I am currently continuing my residency at the same faculty.
How did Irmak Schools contribute to you personally and academically?
We always say that as alumni, Irmak Schools raises "citizens of the world". In fact, this is the summary of everything they added in one sentence; Irmak Schools is raising a generation that is self-confident, has a high awareness of the world, is committed to Atatürk's principles, who will really contribute to this country. A "family" that successfully fulfills this task among its counterparts.
Did you participate in the social responsibility projects?Of course, I wasn't just a geek student; As much as possible, I tried to attend the social-cultural events. After all, this is not just a teaching-oriented school, it is a home that really educates. In every sense… it raises individuals, so if I look at the world from a different perspective these days at this time of life, we owe it to the Irmak family. Fortunately, when I had to make a choice after the secondary school exam in 2008, I chose Irmak. I always say that if I had that opportunity again, I would choose this place again, I would not hesitate.
What kind of a study method did you try for the university entrance success?It is always asked, some things do not happen in 1-2 years. Education life, you start in the first grade of primary school, it is a process up to 12 years. There is cumulation, so you start with a certain foundation in primary school and you constantly put a brick on it. After you reach a certain level, you don't really need to do anything extra, what you should do – you do the routine that everyone does, you don't try too many extra ways. If you try too many extra ways, it's harder to really get results. I was working regularly, I was following the lessons, I was taking my notes. I was a participating student. I was a student who listened to the lecture, constantly jumped to the question, jumped to the answer, went to the blackboard and was questioning. Anyway, Irmak Schools gives you that chance. It wants you to "Question", that is, do not settle for what is given, inquire, search, pursue new horizons… I did these, nothing more… But I worked hard, no lie, nothing happens without working. Yes, there were times when I worked hard, but I was not a person who put work at the center of my life, I worked when I should have worked. Sometimes it is necessary to close myself to the outside world, I am a person who does it right.
What was the most important factor in choosing this profession?When someone asked me" what you're going to be" when I was a 4-5 year old, I would say "I'm going to be a doctor". I never changed. They know me, I never took a different path, I always said I wanted to be a doctor. My friends also brought plastic surgery to my mind here. Plastic surgery used to be called a slightly more "elite" branch among other branches. It was always a popular episode. I thought about it, decided it would suit me, and headed for this area.
What advice would you give our students for choosing a career or university in the future?Mine is actually a status quo, that is, I have said all my life that I will become a doctor, you cannot change it if you do not think about another profession. I mean, imagine that I will be a doctor for 12 years throughout my education life, which I could not earn in my first year at university. I mean, I succeeded but I couldn't get the place I wanted, I wanted a university in Istanbul. In fact, it was still a successful result, but I decided to prepare for another year and enter the university I wanted. My family hesitated saying "you are the type who likes to travel and have fun, are you sure you will be successful" but I was sure of myself.During this one year, I classified my knowledge, learned nothing new, but consolidated my knowledge and entered the university I wanted being the 500th in rankings.
My advice to students is to set your goal, decide and work towards the result. You do not need to close yourself to the outside world, you can succeed if you study regularly and become a questioning student in your lessons! Even if you do not reach your goal in the first year, do not get discouraged, you can be even more successful by reinforcing your knowledge while giving a second chance!