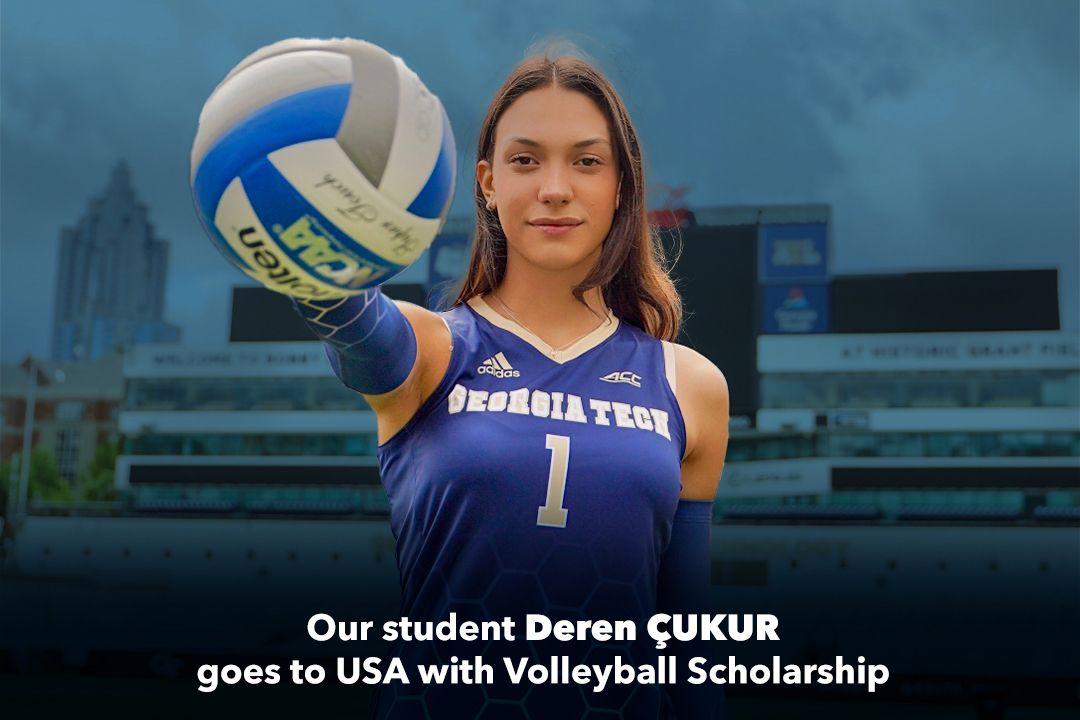 Deren Çukur
Irmak High School student Deren Çukur goes to USA (Georgia Institute of Technology) with volleyball scholarship
– Hello Deren, first of all we congratulate you. We would like to ask you a few questions about your volleyball journey to America. Can you tell us when you started volleyball and when you joined the Irmak Schools volleyball team?
I started volleyball at the sports school in Izmir when I was 8 years old. I joined the school team at Middle School in Izmir, then I joined the school team of Irmak High School at 9th grade.
During this period, I played in various teams. Some of those:
2021-2022 FB Sports Club / 3rd place in Istanbul / 3rd place in Turkey
2020-2021 FB Sports Club
FB Sports Club – 1st League
2018-2019 İzmir Beta Sports Club – Izmir 3rd place
2017 -2018 İzmir Işıkkent Sports Club – Izmir 2nd place / Turkey 7th place
– What was your most memorable moment while doing this sport?
I can say that every moment I play volleyball is special for me because I do what I love, but I have to say that my first A team training in Fenerbahçe was a very exciting experience for me.
– How did Irmak Schools contribute to you personally and academically?
There were many days when I couldn't come to school because of the exercises, I missed the lessons a lot because we always went to the away games as a team, but our communication with our teachers is very strong. They made studies with us for the topics that we constantly missed. Occasionally, we held online lessons at night in the travels. I can say that our teachers have a great share in our success.
When I went to meet with the coaches in Turkey, they said that besides my academic success, they were very impressed with the way I spoke, my knowledge, the books I read, and how I showed them many things that being from Irmak brought me. I think that the values ​​we have gained in Irmak so far are very important and prepare us for life.
– How do you feel about the admission process to the USA?
– A very difficult process awaits me abroad, and I have to get there in the best way possible. I have already started to get prepared. I'm going to a place where there is a lot of competition, so I try to prepare myself physically, mentally, and academically before going there.
– Can you tell us a little more about your admission and scholarship process? How did Irmak Schools contribute to you in this process?
Irmak Schools' foreign language education, along with other courses, made me stand out in the eyes of the coaches in exams such as the SAT. In addition, the overseas education consultancy department provided a lot of support in all matters such as preparing the necessary files. For me to get a scholarship from a school like Georgia Tech, not just the foreign language department, all my classes had to be good. All my teachers have contributed a lot to me in this regard. In addition to all this academic contribution, we have a very special physical education department and coaching staff compared to other schools. They always help the athletes in every way. Their support has a great share in our success. I would like to thank our managers and athletes for all their support.
– What advice would you give to our students who will choose a profession and university in the future?
I've always gone over the things I've always enjoyed doing. I think that it is important to choose a profession that you absolutely love and that you will be happy with, and that you should choose your university in the best way that suits your character, and you feel good about your future.