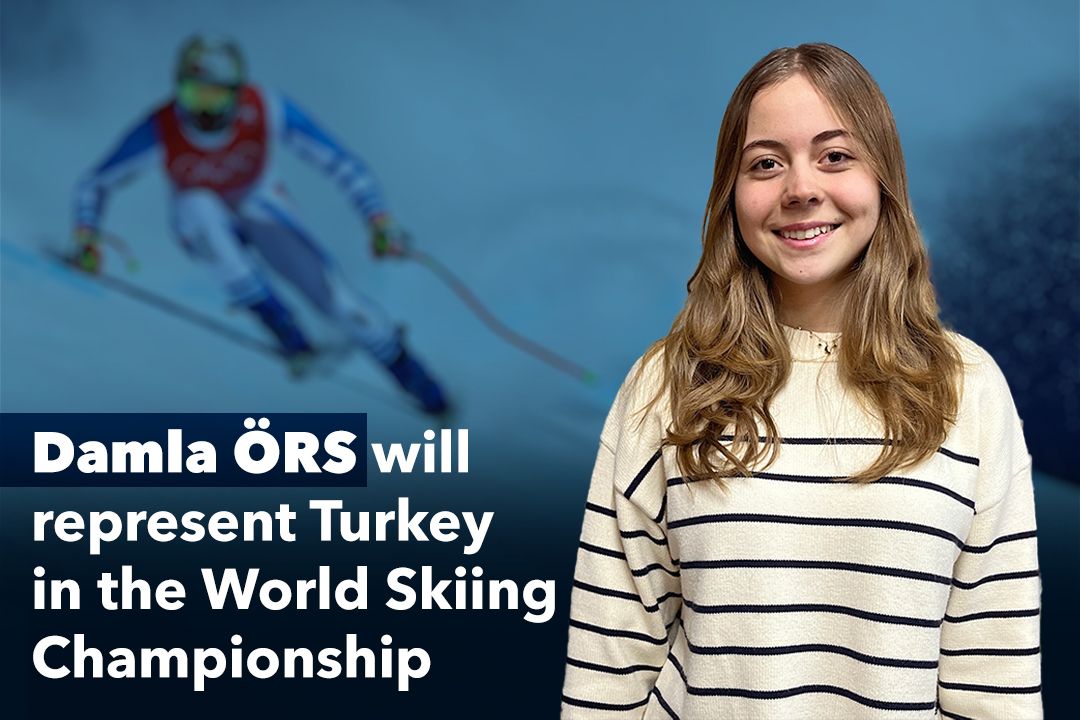 Damla Örs
Our High School student Aysel Damla ÖRS is chosen for the World Schools Winter Sports Games (Winter Gymnasiade) by achieving successful results in the Turkish Ski Federation Alpine Skiing ISF National Team selection, held in Erzurum between December 23 and 25. We congratulate our student and wish her continued success.
– Hello Damla, first of all we congratulate you. How do you feel about participating in the World Championship?
– Thank you so much. I am very happy and excited.
– Damla, when did you start skiing and when did you join the school team? Can you tell us?
– I started skiing at the age of 5 and joined the school team at the age of 10 and started competing professionally.
– What grades did you get?
– Since I started, I have represented our country in the national team uniform at home and abroad. I have been competing in league races and Turkey Championships in Turkey for about 6 years.
– 28.12.2018 u14 girls GS 1st leg 2nd race 3rd
– 20.02.2019 u14 girls SL 2nd leg 2nd race 3rd
– 13.01.2020 u14 girls GS 1st leg 1st race 1.
– 17.02.2020 u 14 girls SL 2nd leg 1st race 3rd
– 18.02.2020 u14 girls SL 2nd leg 2nd race 3rd
– u14 girls national team selection SL 3.
– 19.02.2020 u14 girls 3rd leg 1st race 3rd
– 20.02.2020 u14 girls 3rd leg 2nd race 3rd
– 2020-2021 u16 girls national team selection 3.
– 2020-2021 FIS Kids Cup Lebanon u16 girls GS 2.
– 2020-2021 FIS Kids Cup Lebanon u16 girls SL 2.
– 25.02.2022 FIS Kids Cup u16 girls SL 3.
– 2021-2022 Season u16 girls combined 3
3. What was your most memorable moment while doing this sport?
Skiing has greatly influenced my life. Being alone in the mountains for years, apart from my family, has made me a responsible and self-sustaining individual. I have had the opportunity to collect many memories with my friends since I was young. One of the things I cannot forget is the fun days we went to Lebanon to race with the national team and spent there.
4. How did being at Irmak Schools contribute to you? Did your teachers support you?
Irmak Schools have a great share in my success by encouraging me to participate in inter-school competitions. At the same time, there are times when I can't come to school for a very long time since skiing requires being on the mountain all the time, but I keep in touch with my teachers, make online lessons when necessary, and make studies when I return to school when necessary, and they support me in every way and help me a lot.
5. How do you feel about your new rank and how will you prepare for the world championship?
This is a very important degree for me, it made me and my family very happy. When I completed the auditions and learned that I was in the team, I experienced the joy of getting my hard work paid off. I will prepare for the World Championship by continuing my training in Erzurum. I will continue to work until the last day in order to represent our country and school in the best way possible in the competition.