The International Baccalaureate® aims to develop inquiring, knowledgeable and caring young people who help to create a better and more peaceful world through intercultural understanding and respect. To this end the organization works with schools, governments and international organizations to develop challenging programmes of international education and rigorous assessment. These programmes encourage students across the world to become active, compassionate and lifelong learners who understand that other people, with their differences, can also be right.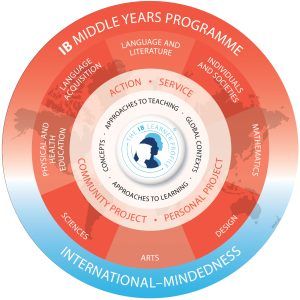 In order to meet international standards in teaching and learning in line with these objectives:
Irmak Middle School is a Candidate School* for the MYP (Middle Years Programme). This school is pursuing authorization as an IB World School. These are schools that share a common philosophy—a commitment to high quality, challenging, international education that Irmak Schools believe is important for our students.
*Only schools authorized by the IB Organization can offer any of its four academic programs: the Primary Years Program (PYP), the Middle Years Program (MYP), the Diploma Program (DP), or the Career-related Program (CP). Candidate status gives no guarantee that authorization will be granted. For further information about the IB and its programs, visit www.ibo.org.
The MYP Community Project is an important activity that must be completed in the third year (7th grade) of the MYP program at Irmak Schools. The community project focuses on community and service and gives the opportunity to develop awareness of needs in various communities and addresses these needs through service learning. The community project is completed individually or in groups of up to three people. The choice of the project topic is made in consultation with the supervising teacher, who is responsible for overseeing the development of the project according to the Community Project objectives and evaluation criteria published in the IB Projects Guide. Regular meetings are held with the supervisor and the supervisor signs the relevant documents for each of the mandatory meetings. A record of these meetings is kept by the students in their Process Journals. It is the students' responsibility to meet the deadlines. Research, Planning, Taking Action and Reflection steps are followed during the project.  Community projects are evaluated by the supervisors and juries according to the criteria published in the MYP Projects Guide. The timeline shared with students and counselors at the beginning of the year and at the end of the year, each student is expected to present their Community Project. The presentations are presented in a festive atmosphere at our school with a big organization to which parents are also invited.
Click here
 for more information about the community project.