Irmak Schools, which attaches great importance to Social Responsibility Projects (Community Involvement Projects) based on the principle of "raising individuals responsible for their age" in its vision, starts to implement this programme from the 9th grade as part of the Irmak Anatolian High School curriculum. This programme, which includes societal and social activities that all students in 9th and 10th grades are obliged to implement, has been carried out with great devotion since 2015. The programme in question is a 70-hour training aimed at learning, adopting and implementing social responsibility awareness by individuals. Our school has carried out many social responsibility projects since its establishment in 1995 and continues to carry out various projects with the same consistency today. With these projects that prioritise social benefit beyond personal interests, it is aimed that our students gain lifelong social awareness by learning different lifestyles, the change in the concept of need according to socio-economic structure, respect for individual and social differences, taking initiative, organisation, teamwork, and empathy, the variability of material / moral possibilities and efficient use of time.
In addition to social responsibility projects based on student participation, Irmak Schools attach equal importance to organising projects in which community volunteers outside Irmak Schools can also take part.
At the end of the programme, all students who participate in the projects and fulfil the relevant tasks are awarded a 70-hour bilingual "Certificate of Participation in Social Responsibility Projects (CIP)".
Our CIP Project Groups carried out in this academic year: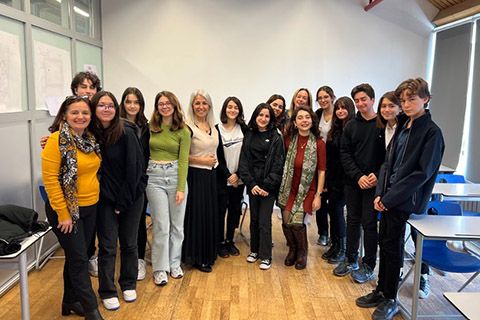 1- YARENLİK ROAD GROUP (INTERGENERATIONAL SOCIAL AWARENESS PLATFORM)
The main purpose of the "Yarenlik Yolu Platform", which was created to build a bridge between generations, is to increase the awareness of old age and to create a bond between the elderly and young people.
The activities of the relevant group will be organised under the leadership of Spc. Psychotherapist Refika YAZGAÇ and the activities are carried out with the cooperation of volunteer yarens.
The priorities of the platform are:
Making the work visible,
To consciously involve people, especially young people, in the path of yarenlik,
To touch not only on old age, but also on the uniqueness and beauty of each age,
Promoting conscious and healthy ageing through "self-help" activities,
To contribute to the adoption of new and healthier ways of living by individuals.
Various psycho-drama and psychology trainings are also ideal for those who choose this group.
The main goal of the Yarenlik Road Platform is to create a chain and ensure the continuity of this completely voluntary work. In this context, they are happy to see young people among them on this path they set out with the motto "Love for Each Other, Social Awareness for All!"!
Detailed information can be found at https://yarenlik.org/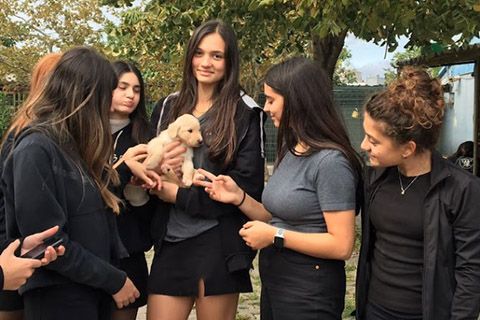 2-KADIKÖY MUNICIPALITY ANIMAL SHELTER GROUP
Street animals are valuable creatures that share life with us. In this project, which was set out with the idea of "He who loves animals, loves people"; the main goals of the group are to meet the basic needs of the animals in the shelter, to walk them, to support the employees there, to protect these animals that have moved away from their natural habitats and to ensure that these animals in need of help are cared for and treated nicely.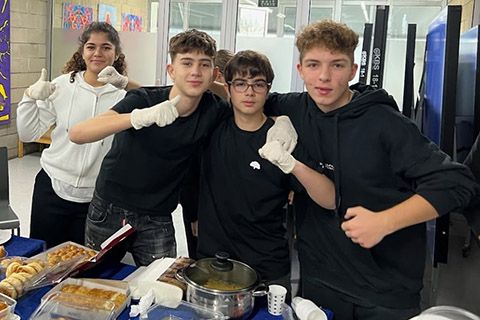 3- FUND GROUP
It is a structure created to provide economic support for all our social responsibility projects. Our students in the relevant group obtain a budget through sponsorship meetings, bazaars and donations throughout the year. Then, they prepare an action plan and take action to provide material and moral support to their peers in need identified in Istanbul and all other provinces in Turkey. The most important feature sought in the students participating in the relevant project is to have good communication and marketing skills.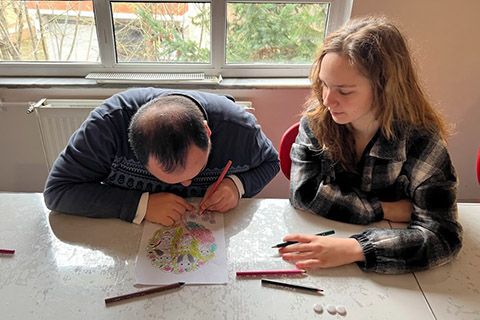 4- ZİÇEV ISTANBUL GROUP (FOUNDATION FOR THE UPBRINGING AND PROTECTION OF MENTALLY DEFICIENT CHILDREN)
There is a place for everyone at ZİÇEV, which aims to maximise the potential of individuals in need of special education by taking into account the individual situation and abilities of its students and to ensure that they become self-sufficient, independent and productive individuals!
By participating in ZİÇEV's workshops and clubs, our students have the opportunity to have a pleasant time with children with special needs and contribute to their education. By transferring their experience and knowledge to those children through workshops such as handicrafts, painting, photography and ceramics, they help them become more productive individuals.
They teach children with special needs how to use computers and enable them to use educational games and programmes. They also teach them in the photography club how to use tools such as cameras and lenses.
They support the students in English education and help them in other subjects if needed.
They donate or help to collect various items to be sold in bazaars.
They support the foundation by seeking sponsorships for monetary or other donations and resources from various sources.
They help translate the documents and information on the website into English, the international language, so that the foundation can open up to the world.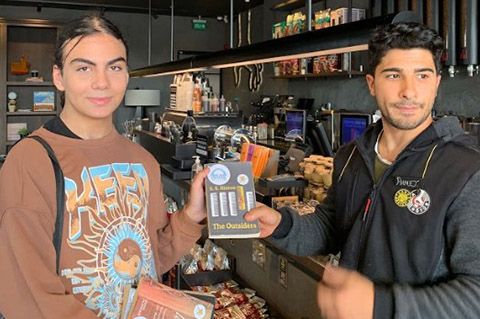 5- TRAVELLING BOOKS GROUP
Within the scope of our "Let's Read – Let's Read" project, our travelling books with the Irmak Schools logo, which are prepared in order to gain and develop reading habits, are ready to start their journey quickly this term. Our books, which are carefully prepared and square-coded, are first distributed to various contracted cafes, restaurants and workplaces around the school area; after being read by the people who go there, they set off to be left at other locations to meet with other readers. It is possible to meet a travelling book with the Irmak logo anytime and anywhere!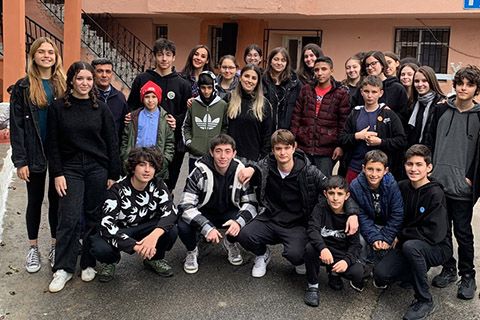 6- YAKACIK SEVGİ EVİ GROUP
Yakacık Hatice Abbas Halim Children's Home is a residential social service organisation tasked with ensuring the physical, educational, psycho-social development of boys in need of protection between the ages of 7-12, developing a healthy personality and acquiring good habits.
Our students who choose this group voluntarily support these children by providing them with trainings such as basketball, volleyball, English, football, modern languages, playing instruments, etc. At the same time, they increase their motivation and help them become more self-confident individuals.
They establish close friendships with them by playing their favourite games.
They read stories aloud with them and support them to improve their literacy skills to a higher level.
When appropriate conditions are provided, they put on performances such as theatre and dance with the students of the institution and then perform anywhere.
It is also possible for our students who take part in this social responsibility group to come up with other ideas for the needs of these children…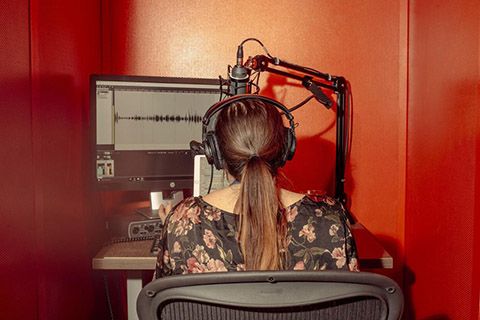 7- AUDIOBOOK GROUP
The Audiobook Project aims to provide unrestricted access to information resources for the visually impaired as well as other individuals who are unable to make unlimited use of printed resources due to their disabilities. Within the scope of this group, books are audiotaped according to GETEM (Boğaziçi University Technology Laboratory for the Visually Impaired) standards in order to reach all individuals in Turkey. People from all age groups and walks of life can perform books. Before starting the book dubbing, a voice recording is made to determine whether the tone of voice and diction are appropriate, and any deficiencies are corrected. Then, a book is selected among the books requested to be vocalised by GETEM and the selected book is started to be vocalised.
For detailed information, you can reach Boğaziçi University Getem Department online.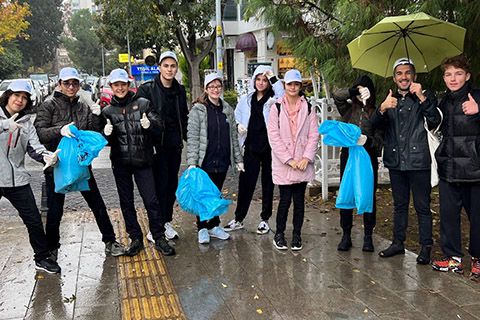 8- ENVIRONMENTAL VOLUNTEERS GROUP
If the Community of Environmental Volunteers is considered as a jigsaw puzzle, the pieces of this puzzle are forests, rivers, seas, natural resources and living creatures, and all pieces must be complete in order to be completed. Environmental Volunteers Community students try to bring these pieces together and solve the problems in the pieces.
Our students who choose this group voluntarily
Our students who choose this group voluntarily play a role in increasing the environmental awareness of young people by taking part in activities that increase environmental and nature awareness.
They internalise this awareness by participating in activities that will enable people to be intertwined with nature, they produce projects related to the protection of nature and the environment and ensure that these projects are implemented. They lead activities such as World Pi Day and World Animal Day.
While producing projects related to environmental problems, they try to make the issues that do not create a problem when they are alone, but when they come together, they try to make them remarkable by using different perspectives and different materials.
By drawing attention to an issue on environmental days held every year, they make these problems visible and create high awareness.
The projects carried out in this academic year in all of the above-mentioned groups (Yarenlik Yolu Platform, Kadıköy Animal Shelter, Travelling Books, Ziçev Istanbul, Yakacık Sevgi Evi, Environmental Volunteers, Audio Book, Fund Group) are aimed at supporting the understanding of "creating an awareness that there are other lives other than the one we live" in our participating students. In addition, it enables Irmak students, who we believe will make a difference in society in the future, to develop this sensitivity. Our projects are open to all parents, school stakeholders and the entire Irmak Family who wish to join us as guest participants.